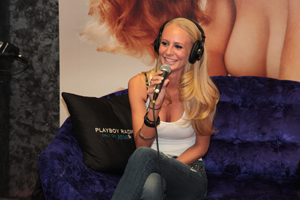 Hanging out in the green-room, filling out a questionnaire abound with suggestive questions that are best left to be asked during pillow-talk. The questionnaire left nothing to the imagination: what sexual positions were my favorite, where was the craziest place I had sex, and the like. When filling this out, I hoped they were not going to slam me with these questions. As much as I hoped, this was, of course, PLAYBOY RADIO!!

Of course they asked!! I was a bit embarrassed, but this is the life of a Playboy Intimates model after all... and to tell the truth, it was a lot of fun. And of course the Playmate Kim Phillips was there to answer the same questions right along with me. She was a treat to meet.

Kevin and Andrea demanded to check if I was currently wearing Playboy Intimates, and inevitably I showed them! That's when they started to guess what my waist size was.

I'd like to thank Playboy Radio for a really great morning and thanks to all the people who started following me on twitter and went to PlayboyIntimates.com!